We Are in a Crisis
America's dependence on OPEC oil is at the intersection of the three most critical issues America currently faces: the economy, the environment, and our national security.
There is a Workable, Achievable Solution
America is blessed with enormous reserves of clean, cheap natural gas. The Pickens Plan utilizes this tremendous resource to build a bridge to the future — a blueprint to reduce OPEC oil dependence immediately by harnessing domestic energy sources, and buy us more time to develop the next generation of technologies that harness wind and solar power and enhance the efficiency of our electrical grid.
We Can Bring Change
More than 3 million Americans have already signed up to support the Pickens Plan. Their voices are being heard by governors, local elected officials, the U.S. Congress and the Obama Administration. Together we are raising the call for change and to set a new course for America's energy future — breaking the hammerlock of OPEC oil and securing a new domestic energy future for America that focuses on self-sufficiency and sustainability.
You can help change America's future by supporting the Pickens Plan today. Join now.
---
The Man with the Plan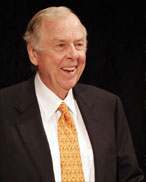 Legendary energy entrepreneur T. Boone Pickens is the founder and CEO at BP Capital, an energy-focused investment firm in Dallas, Texas.
Boone grew up in Holdenville, a small town eastern Oklahoma town. His father was in the oil business, and his mother ran the Office of Price Administration during World War II, rationing gasoline and other goods for four counties. Boone attributes much of his success to his mother and father.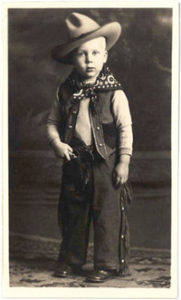 Boone graduated as a geologist from Oklahoma State University in 1951 and started work with Phillips Petroleum Co. After three and a half years, he struck out on his own as an independent geologist. Boone was the founder of Mesa Petroleum in 1956. Boone's career at Mesa spanned four decades. Under his leadership, Mesa grew to become one of the largest and most well known independent exploration and production companies in the United States; Mesa produced more than 3 trillion cubic feet of gas and 150 million barrels of oil from 1964 to 1996.
From its inception, Mesa was at the forefront of change and innovation. Mesa's fitness program is a good example. Boone has long understood the benefits of physical fitness. Mesa's fitness program has become a model for corporate America, and Mesa was the first company to be accredited by the Institute for Aerobics Research.
Throughout his professional life, Boone has been a generous philanthropist, having already donated over one billion dollars. In 2006, he contributed $175 million to a wide range of causes and the formation of the T. Boone Pickens Foundation. He has appeared multiple times on The Chronicle of Philanthropy's list of top U.S. philanthropists. The T. Boone Pickens Foundation is improving lives through grants supporting educational programs, medical research, athletics and corporate wellness, at-risk youth, the entrepreneurial process, and conservation and wildlife initiatives. Boone has joined Bill Gates, Warren Buffett and many other wealthy individuals in "The Giving Pledge" – a moral commitment to donate most of their wealth to charities.
The Horatio Alger Association of Distinguished Americans Inc. selected Boone as a recipient of the 2006 Horatio Alger Award, which epitomizes those who have overcome adversity and humble beginnings to achieve success. It is but one of many honors awarded to Boone for his achievements, including Trader Monthly's 2006 Trader of the Year award, the Texas Business Hall of Fame, and the Oklahoma Hall of Fame.
Boone lives in Dallas. He has five children and 13 grandchildren.